What was the first sound system in Jamaica ?
Since the 1950s, sound systems have had a major impact on music and party culture. Sound systems are portable sound systems that began to be used to play music on the streets of Kingston, Jamaica.
It is very difficult to know the name of the first sound that existed… But a few pioneers stood out, such as Coxsone Dodd, Duke Reid and Prince Buster. They created a new way of delivering music, bringing it directly to the people.
Zoom into the history of these 3 precursors …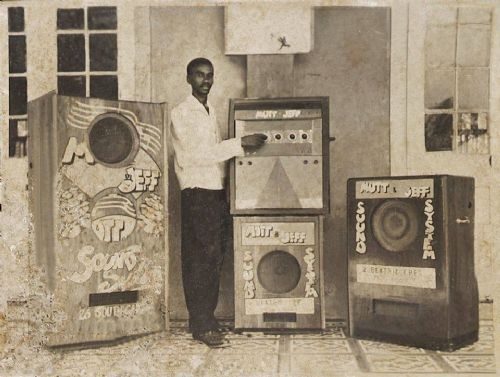 Coxsone Dodd (Sir Coxsone)
Coxsone (real name Clement Seymour Dodd) was a Jamaican producer who contributed greatly to the development of reggae and ska.
Here are three facts about him:
Coxsone founded Studio One, a recording studio that became one of the most influential in Jamaican music history. He recorded many famous artists such as Bob Marley, Burning Spear and Dennis Brown.
Coxsone was also a pioneer in the creation of sound systems, portable sound equipment that played an important role in the spread of Jamaican music in the 1950s and 1960s.
Coxsone was posthumously honoured in 2004 by the Jamaican government with the title "Commander of the Order of Distinction" for his outstanding contribution to Jamaican music.
Duke Reid
Duke Reid was a famous Jamaican music producer and sound system owner. 3 key facts about his history:
Duke Reid was one of Coxsone Dodd's main competitors in the Jamaican music industry in the 1950s and 1960s. He was the owner of Trojan, one of the most popular sound systems of the time.
Duke Reid has produced many ska and rocksteady hits, including songs by Bob Marley, The Wailers and Alton Ellis. He has also recorded such notable artists as Desmond Dekker, Jimmy Cliff and Toots and the Maytals.
Duke Reid is also known for his involvement in the violence that rocked the Jamaican music industry in the 1960s. He was a member of the street gang The Shower Posse and was involved in violent conflicts with other producers and sound system owners. However, he eventually abandoned this path and converted to Christianity.
Prince Buster
Prince Buster was a highly influential Jamaican singer, songwriter and music producer.
Here are three key facts about him:
Prince Buster was one of the pioneers of ska, a Jamaican musical genre popular in the 1960s. He produced many ska hits, including "Al Capone" and "One Step Beyond".
Prince Buster was also a precursor of toasting, a vocal technique that is the origin of rap.
Prince Buster was also a controversial figure. He was known for his angry temper and was involved in fights and conflicts with other artists. However, he was also known for his commitment to black rights and used his music to promote social justice.
The vibrations transport us
The powerful sound of the sound systems created a unique atmosphere that encouraged dancing and crowd movement. The songs were carefully chosen and played continuously, creating a seamless musical experience.
Sound systems quickly became popular throughout Jamaica and influenced many artists, including Bob Marley.
We still see it today in sound events with the presence of a sound system that allows the reproduction of very low frequencies. The public is transported by the infra-bass, which is what a study I present in this article shows: Why your sound-system should go below 40Hz!
A global influence …
The sounds have also been used to play reggae and dub in Jamaican communities throughout the UK, USA and Europe.
Sound-system culture is particularly prevalent in the UK where it is common to see sound-systems in clubs, or on the streets, at the Notting Hill Carnival for example.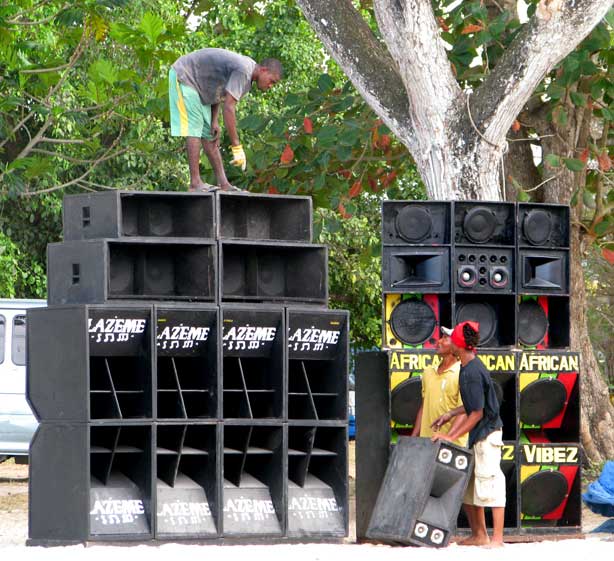 These home-made sound systems carry with them much more than just a sound system. As a result, they have allowed Jamaican music to spread around the world, and are responsible for the rise of modern Jamaican musical styles such as ska, rocksteady, reggae and dub, influencing other musical genres from hip-hop to electro.
… Still today!
Today, they continue to be used to play music at clubs, parties and festivals around the world. With a handcrafted design, futuristic or traditional, but always authentic, they create an immersive music experience, highlighting the sound quality and power of the music, whatever the style!
Thanks for reading, I hope this article was helpful !
🙏 If you enjoyed, please share on your social networks 🙏
And if you have any remarks, thoughts, experiences or argument to share :
Feel free to share in the comments below !